The Augusta County Historical Society
---
Painters & Printers exhibit now open in the Wayne Theatre gallery in Waynesboro.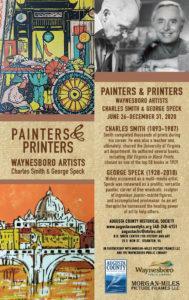 Last year's popular exhibit featuring Waynesboro artists Charles Smith and George Speck has moved to the upstairs exhibit gallery at the Wayne Theatre on Main Street in Waynesboro. The gallery is free and open to the public Tuesday-Friday, 10 a.m.-2 p.m. and is open to ticketholders at any event one hour before and during all performances. If you missed seeing the work of these two amazing artists during the pandemic or you enjoyed seeing their art so much that you want to view it again, stop by the Wayne at 521 West Main Street.
The opening reception for the exhibit is June 7 from 5-7 p.m. The exhibit will be up until August 22.
---
We are open and want to see you!
In addition to our reopened History Gallery with the new "Music & Miniatures" exhibit, the Augusta County Historical Society's office, library, and archives are now open to visitors and researchers. Regular office hours are Tuesday, Thursday, and Friday 9-12, however, those hours may vary. It is strongly suggested that visitors and researchers make an appointment by either emailing augustachs@ntelos.net or calling 540-248-4151.
For Society updates and information about upcoming events, please sign up to receive our e-blasts.
Research requests can be emailed to the archivist team at historian@augustacountyhs.org
---
Augusta County's history is America's history.
Here in the county that once stretched west to the Mississippi River and north to the Great Lakes…Native Americans clashed with pioneers opening the frontier…Revolutionary War patriots helped secure their nation's liberty…America's agricultural revolution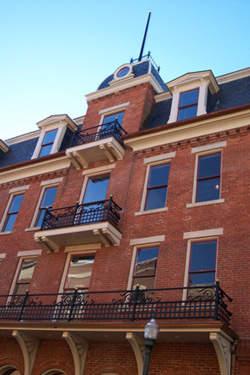 began…a future U.S. President was born…Civil War armies vied for control of a state…and great artists shaped their vision.
Indeed, Thomas Jefferson, Patrick Henry, Cyrus McCormick, Woodrow Wilson, Robert E. Lee and Stonewall Jackson all played important roles in our history, but so did Grandma Moses, George Caleb Bingham, Kate Smith, John Coalter and William Sheppard. Daniel Boone visited kinfolk here, Santa Anna stopped here, Charles Lindbergh landed here, Erwin Rommel studied here and Billy Sunday preached here. Even history's great names like Eisenhower and Lincoln traced their ancestral homes to this county. And, we cannot tell a lie – George Washington slept here.