The Augusta County Historical Society
---
Take the Augusta County Historical Society Driving Tour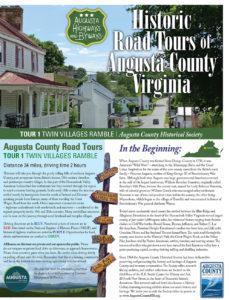 Click on the tour image to download the tour description and map

Cabin fever getting to you? We at the Augusta County Historical Society have a solution—the Twin Villages Ramble, a 34-mile historical driving tour of southeastern Augusta County.

During this historic pandemic you can practice your SOCIAL DISTANCING while getting outside and learning some history.
It's simple—download and print the "Augusta Highways and Byways" Historic Road Tour.

Then hop in your car and enjoy the spring weather and beautiful countryside while immersing yourself in our area's amazing history.
---
COVID-19 Update
We as a nation continue to adjust our everyday lives in order to protect ourselves against the spread of the Coronavirus. At the Augusta County Historical Society must do our part as well. Starting immediately, the historical society's offices, archives, and research library are closed to the public. This closure will continue until the end of the month at which time we will re-evaluate the situation.
---
ACHS Banquet Postponed
Message from ACHS President Nancy Sorrells
Dear History Lovers Near and Far,

These are certainly times that future generations will read about in the history books! Believe it or not, I was scheduled to give a program next week on the flu pandemic of 1918. However, it was postponed because of the Pandemic of 2020! How crazy is that?
I know that many of you were looking forward to our 24th Annual Augusta County Historical Society Banquet on April 6 in which Dr. George Rable was going to present a fascinating program "God as General: Was There a Religious History of the American Civil War?"

In the wake of our national emergency, however, we have decided that the most prudent course of action at this time is to postpone the banquet.

The good news is that, by working quickly with Dr. Rable and the Stonewall Jackson Hotel & Conference Center, we have been able to lock in a new date — MONDAY, OCTOBER 19 — meaning that our spring banquet is now a fall banquet.
Augusta County's history is America's history.
Here in the county that once stretched west to the Mississippi River and north to the Great Lakes…Native Americans clashed with pioneers opening the frontier…Revolutionary War patriots helped secure their nation's liberty…America's agricultural revolution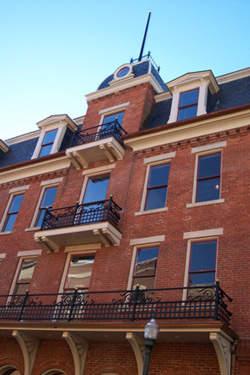 began…a future U.S. President was born…Civil War armies vied for control of a state…and great artists shaped their vision.
Indeed, Thomas Jefferson, Patrick Henry, Cyrus McCormick, Woodrow Wilson, Robert E. Lee and Stonewall Jackson all played important roles in our history, but so did Grandma Moses, George Caleb Bingham, Kate Smith, John Coalter and William Sheppard. Daniel Boone visited kinfolk here, Santa Anna stopped here, Charles Lindbergh landed here, Erwin Rommel studied here and Billy Sunday preached here. Even history's great names like Eisenhower and Lincoln traced their ancestral homes to this county. And, we cannot tell a lie – George Washington slept here.