The Augusta County Historical Society
Introduction to Backroads of Augusta County
by Lynn Coffey
---
---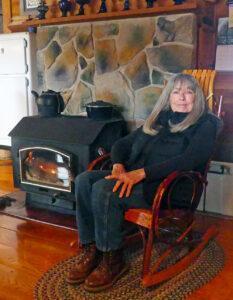 Lynn Coffey's BACKROADS OF AUGUSTA COUNTY is a historical record of early people and places throughout the county and it is a collaboration between Augusta County Historical Society and Lynn who felt the importance of preserving the rich culture of the area's mountain people.
I, Lynn Coffey, believe God gives everyone a certain gift in this life to develop and use not only to bless themselves but others as well. My gift was, and continues to be, capturing the disappearing way of Appalachian life from the people who actually lived it.
In 1980, I moved to the tiny mountaintop village of Love and began a heartfelt relationship with the native elders living around me. That first year, they taught me many of their old-time activities and in 1981, I began documenting their culture in a small newspaper called Backroads.
Over a twenty-five-year span of time, much information was gathered and printed in the paper, along with vintage photographs that the mountain people graciously donated, thus adding credibility to their stories. After my retirement from the newspaper in December of 2006, I began a new chapter of preservation by continuing to interview the older people and compiling their stories in six consecutive books written over a period of ten years.
At the end of December 2019, I retired from book publishing and now find myself engaged in compiling many of the stories from the Backroads newspaper as well as the six books and sharing them in a blog on the Augusta County Historical Society website. I look forward to continuing to capture the enduring and all-important history of Virginia's mountain people who unknowingly have contributed a priceless legacy for generations to come.
---
Reopening Announcement
The Augusta County Historical Society's office, library, and archives will be open to all visitors and researchers by APPOINTMENT ONLY starting the week of July 13, 2020.
The number of visitors at any one visit will be restricted due to social distancing guidelines recommended by the Center for Disease Control.
All visitors to the office will be required to wear masks. If visitors are conducting historical research then they must wear gloves as well. We request that researchers bring their own masks with them and we will supply the gloves. (Gloves are necessary because we are unable to wipe down and properly disinfect our fragile archival resources after being handled by researchers.)
For appointments, email the office and cc the archivist
augustachs@ntelos.net
archivist@augustacountyhs.org
Researchers can also call the office at 540-248-4151 and leave a message, however the office is only sporadically staffed at this time, so there might be a longer than usual delay in getting back to you.
We thank you for your patience during these historic times. Remember that we are in this together! Stay Safe!
---
COVID-19 Update
As we enter the summer months in a vastly changed world, we at the Augusta County Historical Society are continuing to adjust and plan for our new reality. Elsewhere on this page you can read about our latest developments. You will see that, with enhanced safety measures in place, we are slowly and cautiously opening our wonderful new exhibit, "Painters & Printers: Waynesboro Artists Charles Smith and George Speck, in the History Gallery and are again welcoming researchers into our library.
We are also working to enhance our virtual presence as we continue to "Preserve the Past for the Future." We have an exciting "virtual banquet" planned for Oct. 19 and a number of other virtual events in the planning stages as well.
If you have not downloaded our historical driving tour, we encourage you to do so and take a relaxing drive through our beautiful and historic countryside in the near future.
Please bear with us during these difficult times as we work together as a community to protect those among us who are most vulnerable. History tells us that it is times like these when our country shines the brightest. We are confident that this will once again be the case.

In the meantime, if you have questions or ideas about how we can connect with our local history, please feel free to email us at augustachs@ntelos.net or call and leave a message at 540-248-4151.

Yours in History,
Augusta County Historical Society
---
Augusta County's history is America's history.
Here in the county that once stretched west to the Mississippi River and north to the Great Lakes…Native Americans clashed with pioneers opening the frontier…Revolutionary War patriots helped secure their nation's liberty…America's agricultural revolution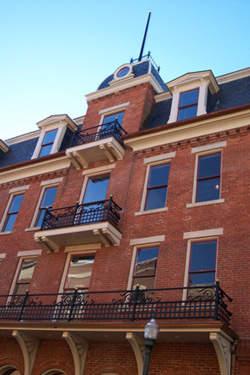 began…a future U.S. President was born…Civil War armies vied for control of a state…and great artists shaped their vision.
Indeed, Thomas Jefferson, Patrick Henry, Cyrus McCormick, Woodrow Wilson, Robert E. Lee and Stonewall Jackson all played important roles in our history, but so did Grandma Moses, George Caleb Bingham, Kate Smith, John Coalter and William Sheppard. Daniel Boone visited kinfolk here, Santa Anna stopped here, Charles Lindbergh landed here, Erwin Rommel studied here and Billy Sunday preached here. Even history's great names like Eisenhower and Lincoln traced their ancestral homes to this county. And, we cannot tell a lie – George Washington slept here.