PLEASE JOIN US FOR OUR VIRTUAL BANQUET!
Because we are going virtual you can help us make this a RECORD BREAKING banquet and support us in our time of need while NEVER LEAVING the comfort of home. Won't you purchase a banquet ticket today and support our important mission of "Preserving the Past for the Future"?
Monday, October 19, 2020 – 7pm

God as General: Was There a Religious History of the American Civil War?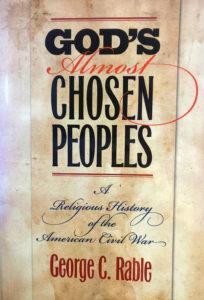 (A look at how Americans interpreted the causes and course of the Civil War through the lens of religious faith.)
Dr. George C. Rable
Professor Emeritus, University of Alabama
Author, God's Almost Chosen Peoples: A Religious History of the American Civil War.
University of North Carolina
Tickets & Sponsor Levels
We are extremely grateful for our wonderful sponsors! Your names and logos will be displayed throughout the on-line presentation of the banquet.
Box meals, for those who choose this option, are included in the ticket price.
Individual Ticket: $60.00
Patron Sponsor Ticket: $100.00
"General" Sponsor: $1000
"Commander" Sponsor: $750
"Captain" Sponsor: $500
"Chaplain" Sponsor: $250
"Foot Soldier Sponsor": $100
A link to the banquet will be emailed or snail mailed to you
Books can be mailed ($8) or picked up at ACHS.