Backroads of Augusta County
by Lynn Coffey
---
---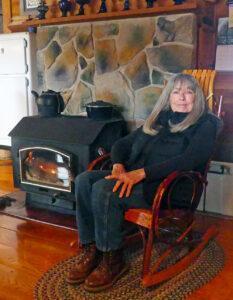 Lynn Coffey's BACKROADS OF AUGUSTA COUNTY is a historical record of early people and places throughout the county and it is a collaboration between Augusta County Historical Society and Lynn who felt the importance of preserving the rich culture of the area's mountain people.
I, Lynn Coffey, believe God gives everyone a certain gift in this life to develop and use not only to bless themselves but others as well. My gift was, and continues to be, capturing the disappearing way of Appalachian life from the people who actually lived it.
In 1980, I moved to the tiny mountaintop village of Love and began a heartfelt relationship with the native elders living around me. That first year, they taught me many of their old-time activities and in 1981, I began documenting their culture in a small newspaper called Backroads.
Over a twenty-five-year span of time, much information was gathered and printed in the paper, along with vintage photographs that the mountain people graciously donated, thus adding credibility to their stories. After my retirement from the newspaper in December of 2006, I began a new chapter of preservation by continuing to interview the older people and compiling their stories in six consecutive books written over a period of ten years.
At the end of December 2019, I retired from book publishing and now find myself engaged in compiling many of the stories from the Backroads newspaper as well as the six books and sharing them in a blog on the Augusta County Historical Society website. I look forward to continuing to capture the enduring and all-important history of Virginia's mountain people who unknowingly have contributed a priceless legacy for generations to come.