Part of the area-wide WWI commemoration
Presentation by Historian Melissa Patrick
On the eve of the Civil War, the African-American population of Staunton and Augusta County stood at about 20 percent. In 1865, when Staunton became the headquarters for the Freedmen's Bureau in the aftermath of the war, those population figures increased. Today the black population of the county is just over four percent, while the percentage in Staunton is 12 percent and 10 percent in Waynesboro.
In between then and now many social factors caused a dramatic drop downward and today's relatively small numbers that unfortunately make the rich African-American history of our area seem less than it is. Luckily two local historians are engaged in research documenting the story of Augusta County's black veterans a century ago in World War I. The end result will be a book published by the two.
They have researched nearly 400 names of those who served and 20 more names of men who were drafted but who were dismissed from the service due to medical conditions. Many of those from Augusta were in the 92nd and 93rd Divisions. There were 9 or 10 men in the famed 369th Harlem Hellfighters, an infantry regiment that fought under French control. The Harlem Hellfighters were particularly noteworthy for their accomplishments and bravery, so much so that the entire regiment was awarded the Croix de Guerre.
Expect a little myth busting. A commonly held perception is that African Americans who served in the First World War were only used in labor details, but Patrick and Bechtel discovered that many area men were engaged in active combat.
At least 11 of the men who served died as a result of the war and at least one – Richard Dodson – was killed in action. Eight or nine others were wounded or gassed. They have found five men who were officers and six men who enlisted instead of being drafted.
The individual stories are compelling. Take Captain William Green for instance. He actually served 36 years in the army and was awarded the Distinguished Service Cross and a Silver Star for his bravery during WWI. His son, William Green, Jr. would go on to become a highly decorated Tuskegee Airman in WWII.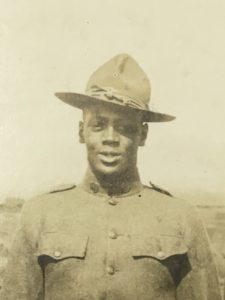 Then there is Harry Smith, who attended Hampton Institute to learn the blacksmith trade. He enlisted and was assigned to the 317th Engineer Regiment in France. According to his family he shod the horse of General Blackjack Pershing.
The Pannell brothers also stand out. Their father was the minister at Ebenezer Baptist Church in Staunton. The two brothers, Philip and Wilbur, were attending Howard University when the war broke out. After the war Philip became a pharmacist and Wilbur became a medical doctor. During the war, Wilbur enlisted so that he could be commissioned. He went through the first-ever officer's candidate school for African Americans, became a second lieutenant, and served in France.